Co-author, Jason Perlow of The Linux Foundation
The insurance industry has arrived at the predicted inflection point between aligning its business with the technological advancements being leveraged successfully throughout other industries or staying put, carrying out business as usual, and slowly sunsetting one line of business at a time.
Common industry-wide challenges are expanding exponentially without viable solutions being implemented. Loss ratios are going haywire in certain lines of business, seen across every carrier's reporting, yet each is trying relentlessly to solve for the losses within their own closed walls. Without a deliberate, collaborative effort among the various stakeholders (including carrier competitors), these shared challenges will continue to persist, and the alternative will likely be riskier in the long run.
The real catch-22 is that for carriers open to exploring solutions rooted in collaboration, the fruits of their labor have not yet been adequately matched in returns because these models require participation from peers and competitors to produce. These collaborative models epitomize "more the merrier" in that, the more carriers and relevant entities participate, the greater the impact of the network and, ultimately, carrier bottom lines.
So, what's the hang-up? Trust, standards and governance, and the safeguarding of competitive advantage. The solution? An insurance-specific Open Governance Network.
What is an Open Governance Network?
The Linux Foundation (LF) is a non-profit organization and the world's leading home for collaboration and open source software, hardware, standards, and data. Two years ago, the LF discussed the potential power and capacities of Open Governance Networks in a post, Understanding Open Governance Networks. The application of distributed ledger technology (DLT) is proposed as an efficient, secure, and scalable solution for highly regulated industries tackling shared challenges around data and its exchange.
Open Governance Networks enable a highly-regulated industry to form a group of stakeholders and competitors (a consortium) that governs itself in an open, permissioned, neutral, and participatory model. Over decades of facilitating the world's most successful and competitive open source projects, the LF best practices and governance models have proven, time and again, the business advancements and scalability resulting from collaborative enterprise-level solution development.
A permissioned network consortium allows, upon consensus agreement, other organizations to participate and share operational, R&D-driven initiative, and development costs/software investments as well as sharing developed efficiencies, insights from data aggregation and analytics, and mutually-beneficial innovations leading to reduced time-to-market for individual products and services. Stronger security and data privacy standards, clear transparency, and increased data quality are inevitable outcomes through this network model's governance.
Welcome to the decentralization of our evolving insurance industry.
openIDL and how it is different
As Open Governance Networks address the concern of neutral and distributed control in vertical industry use cases, there is no better organization than the LF to host and support the industry's first of its kind, openIDL (Open Insurance Data Link).

openIDL is an insurance-specific and permissioned DLT-based project building a network that harmonizes industry data and secures the sharing of it both efficiently and transparently. The project was initiated in 2020 by the American Association of Insurance Services (AAIS), a member-governed insurance advisory organization in the United States that has been providing a common set of services for the insurance industry, such as regulatory reporting on a regional and national basis for the past 80 years. The network's foundational use case, developed by AAIS, is regulatory and statistically reporting data exchange between insurers and state regulators/DOIs.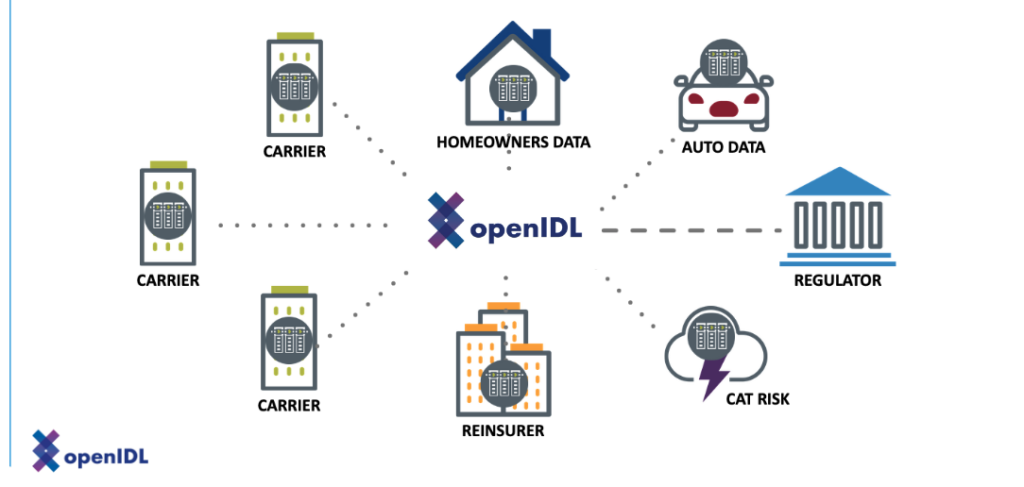 In 2021, the project was moved to the Linux Foundation to ensure a true member-premissioned open platform under the LF structured standards and governance model, free from proprietary solutions – as well as extensive member-exclusive benefits and support to drive project visibility, scalability, and success. The project's use cases have since expanded, as well as its member community.
To date, openIDL's member community includes carrier premiere members: Travelers, The Hartford, The Hanover, and Selective Insurance; state regulator and DOI members; infrastructure partners; associate members such as MOBI (Mobility Open Blockchain Initiative); and other non-profit organizations, government agencies, and research/academic institutions.
openIDL's network is built on Hyperledger Fabric, an LF distributed ledger software project. Hyperledger Fabric is intended as a foundation for developing applications or solutions with a modular architecture. The technology allows components, such as consensus and membership services, to be plug-and-play. Its modular and versatile design satisfies a broad range of industry use cases and offers a unique approach to consensus that enables performance at scale while preserving privacy.
For the last few years, a running technology joke has been "describe your problem, and someone will tell you blockchain is the solution."
As funny as this is, what's not funny is the truth behind the joke, and the insurance industry is certainly one that fell head over heels for the blockchain hype. Like any revolutionary technological advancement throughout history, blockchain and DLT are no different. Failing always smarts in the beginning, but the learnings, iterations, and refinements eventually lead to strong problem-solution alignment. Timing is key. The other key is in the (sometimes long) process of dissecting the problem and coming to the best solution – not in having a solution and searching for a problem.
In recent years, there has been a dramatic and continuous increase in the amount of relevant – and timely – data needed and collected within the industry due to the proliferation of:
IoT devices, cloud adoption, and 5g network expansion
Increased insured connectivity adoption
Evolving climate-related risks and new related external data channels
Data needed for parametric and embedded product development
The growing strategic need for cross-industry data exchange and standards development
New data requirements and requests from regulatory and government entities
The remaining long list of increased-data-collection catalysts
With this increased need and in volume, the possibilities of utilizing these data has also skyrocketed in areas such as underwriting, risk assessment, marketing, segmentation, pricing accuracy, fraud detection, closer to real-time exchange, and many other areas within both carrier business and operations strategies. Inevitably, new challenges affecting all carriers are increasing proportionally, highlighting the need for a secure, private, and transparent platform for exchanging data.
AAIS predicted this need and recognized permissioned-DLT as an aligned solution to these shared industry challenges. The advisory organization saw this need for the "neutral ground" of a decentralized network- a consortium with a leveled playing field maintained by an organization dedicated to the health and growth of the network; not controlled by one company or organization.
With great process, planning, and framing through extensive industry expertise, openIDL was launched and hit the ground running to prove the concept of an industry permissioned network securely managing and exchanging information, held accountable by the LF Open Governance Network model, and able to keep up with the rapidly evolving risk landscape.
The openIDL Open Governance Network
Working to solve shared industry challenges, such as data privacy and standardization, that could not be solved by one entity alone and will open up doors for other innovation priorities and product development.
Enables insurance carriers to provide data to regulators in a standard and efficient manner while maintaining control over the data.
Community generation of a standard data format to promote interoperability and future adoption.
The data is stored in a cloud; each carrier has its own node, an analytics node, and an application for managing data calls.
Network architecture uses Hyperledger Fabric and other technologies such as Kubernetes and JavaScript/Angular UI to create transactions and manage the data.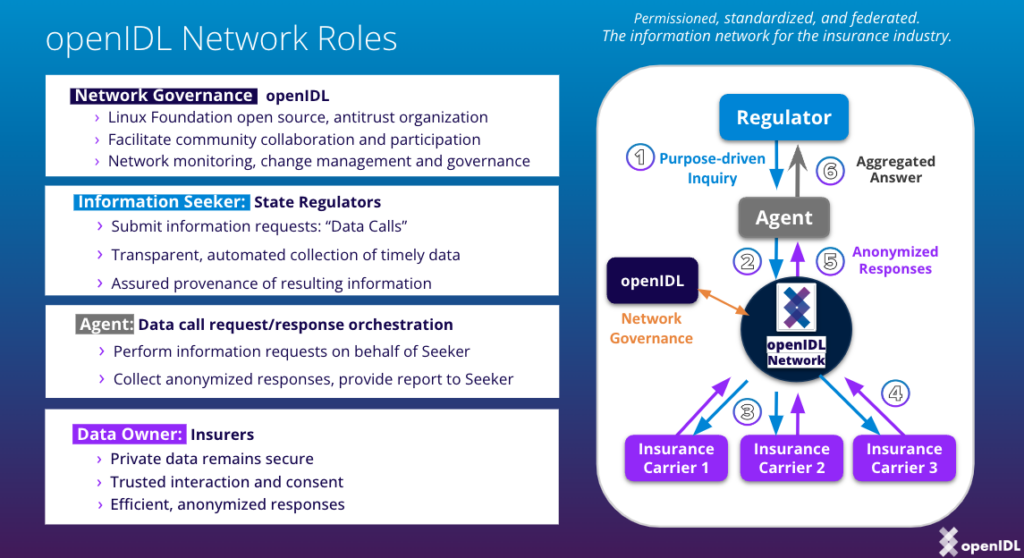 Why the insurance industry needs an Open Governance Network
There have been many attempts to produce a functional, efficient, and secure industry data-exchange network. However, without trust, the risks are too high, and we all know what the business of insurance is rooted in.
This is precisely where the LF Open Governance Network model establishes the needed trust that has been lacking – and from the get-go. The power of both the Linux Foundation and its proven secure framework, as well as the trust, transparency, and security is intentionally woven into Hyperledger Fabric, providing a platform for carriers and all industry stakeholders to solve challenges while trusting in the governance of the community.
Challenges Solved by openIDL
Data Privacy
The primary challenge openIDL solves is the growing data privacy issue faced by insurance carriers. Carriers want to keep their data private and in their control, but if they constantly send data to regulators and other entities, control is inevitably compromised. openIDL allows carriers to provide data to regulators in a standard way while keeping the raw data in their cloud and only accessible through their node.
Standardization
openIDL implements data formatting, tokenization, and interoperability standards to ensure that multiple carriers can participate in the network. This will allow for future adoption and efficient data sharing, aggregation, and analytics applications.
Auditability
openIDL provides an auditable process for carriers to share their data with regulators and other entities. This visibility and transparency ensures that the data is managed properly and that carriers understand what will be done with their data.
Data Calls
openIDL provides a secure and efficient solution for regulators to conduct data calls efficiently and securely. The carriers respond to the data calls, helping regulators better monitor the market activity, plan for future emergencies, and protect consumers by providing data, and the results of the data calls are visible to the regulator through an analytics node. The first step in a data call is for the carriers to load their data into the harmonized data store inside their cloud. The data is then put into a standard format and is only accessible through their node. The regulator can access the data call results through an application that is part of a Kubernetes cluster. The Hyperledger Fabric API is used to create transactions and manage the data on the ledger.
Conclusion
openIDL is an important initiative for the insurance industry as it provides a secure and transparent platform for exchanging information, data, technology, and leadership Open Governance Network strategy.
The use of DLT ensures information is secure and exchange of data is efficient, standardized, actionable, and accurate. The Linux Foundation's involvement is paramount as it provides the foundational and successful open governance model – free from proprietary uses — allowing carriers to solve industry-wide challenges collaboratively and securely.
openIDL represents a huge milestone for the industry at large. The network's use of enterprise-scale permissioned-DLT and its commitment to data privacy and standardization makes it a viable solution for the industry moving forward. openIDL is perfectly positioned to bring everything we, the insurance community, have been discussing and planning for years.

It's time to bring the plans to fruition and beyond, together.
For more information or to inquire about membership options & benefits, please reach out! info@openidl.org